Sara retires from competitive cycling
The ride is over as Carrigan hangs up her helmet
Nick Smart   |  December 4th, 2008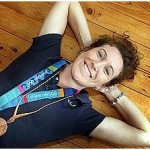 Gold Coaster and Olympic cycling gold medallist Sara Carrigan kicks back at home after announcing her retirement from professional cycling
AFTER an Olympic gold medal and a glittering international career, the wheels have stopped rolling for Gold Coast champion Sara Carrigan.
The 28-year-old, who won the road race at the 2004 Athens Games, is retiring from professional cycling after declaring she no longer felt she could devote the necessary focus and commitment to compete at her best.
"It has been a very emotional decision — it has taken a long four months since Beijing to actually get to this point where I feel comfortable and confident knowing this is what I want," she said.
"It has been hard — there has been a lot of soul searching to make sure I have made the right decision."
Carrigan is well known for her strong desire to compete — it is what has kept her in the sport.
But she has always known that she would hang up the helmet if that passion fell away ever so slightly.
"I am an all-or-nothing person — I like to be the best, I like to win and if I don't have the focus and commitment to do that, then it really hurts," said Carrigan.
"If I don't have that final one per cent, then it is time to walk away."
Carrigan was on the brink of retirement in 2006.
It all caught up with her and she had a seven-month break from the sport. But she got the fire back in her belly after unexpectedly taking out the Surfers Paradise Grand Prix on her comeback.
The win reignited her passion and she re-set her sights on Beijing.
"I was very tired at that point, because I had been racing and training full-time for 10 years or so," she said.
"I just needed a break to feel that passion I had when I first started."
With plenty of hard work, she made the Olympic team and made the trek to Beijing — which she described as an amazing experience, despite being disappointed with her 38th place in the road race.
"It is such a high and I experienced it after Athens as well, obviously because I won there. But I even experienced it after Beijing," she said.
"It is just an amazing thing — for me when I was a little girl it was my dream to represent Australia at the Olympics and also to win gold. To be able to go there again at Beijing — and while it was a bit of a stab in the heart after the success I had at Athens — it was just great to be a part of it."
Originally from Gunnedah in NSW, Carrigan has enjoyed a successful career, representing Australia at eight world championships, two Commonwealth Games and two Olympics.
She also won bronze in the time trial at the 2006 Commonwealth Games in Melbourne and was twice the Australian road time trial champion. She will take many highlights with her.
"It was one of my life dreams to be able to win an Olympic gold medal," she said. "But just in general I spent six or seven months every year living in Europe, which was pretty awesome.
"It was hard at times, sometimes being homesick, but it was a wonderful experience learning different cultures, trying different food and things like that."
Carrigan will now devote her energies into completing her Bachelor of Business degree at Griffith University.
"I have a sports scholarship there, so I will finish it off there and move into the property development industry. I find that really exciting," said Carrigan.
And although she is retired, do not be surprised to see her show up on the local cycling circuit.
"I am definitely open to doing a race here and there but I will just take it as it comes," she said.
"If I do line up, I will be in there to try and hurt my competition. I still love cycling — I will never be able to stop riding because it is such a social sport."