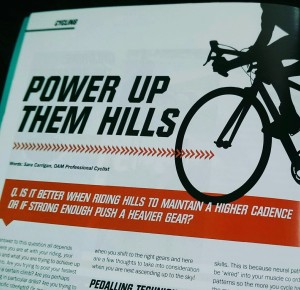 Posted by Sara Carrigan – Columnist for Multisport Magazine
Q.Is it better when riding hills to maintain a higher cadence or if strong enough push a heavier gear?

The answer to this question all depends on where you are at with your riding, your fitness and what you are trying to achieve up the climb. Are you trying to post your fastest time up a certain climb? Are you perhaps engaging in particular drills? Are you trying to build specific strength? Or are you climbing without much thought at all?
Love or hate hills, you are no doubt aware of the effects of gravity and the need to become a better, more efficient climber. This does take thought and purposeful effort. Getting better at cycling uphill requires improvements in both power-to-weight ratio and technical skill. This article will address technical skill, specifically pedalling technique and efficient cadence.
Cycling uphill can certainly be made easier when you shift to the right gears and here are a few thoughts to take into consideration when you are next ascending up to the sky!
PEDALLING TECHNIQUE
Riding a bicycle seems like the simplest thing in the world. Just put your bum on the saddle and your feet on the pedals and push down hard until you are rolling along. However, there is a big difference between the amount of effort required by adopting this raw method and the smooth, efficient motion used by the pros. It does take hours in the saddle to be efficient, so the adage of "practice makes perfect" does ring true in this instance. However, regardless of age or event, it important for all riders to concentrate on smooth and efficient cycling skills. This is because neural pathways will be 'wired' into your muscle co-ordination patterns so the more you cycle haphazardly the more ingrained bad pedal mechanics become. We aren't all going to be '100rpm+ pro riders', but you do need to think about how you pedal, rather than simply stomping on the pedals.
Performance is directly related to the energy expended, thus it is important that energy is not wasted in movements other than those required in applying force to the pedals. Lateral movements of the arms, knees, head and trunk are movements requiring energy expenditure. These movements account for an energy loss in the forces being applied to the pedals and should be kept to a minimum. The maintenance of smooth body composure reduces energy expenditure thereby increasing efficiency, and consequently performance. A rider who is style-inefficient tests personal physical capacities to the limit, experiences earlier fatigue and provides a sub-maximal potential performance.
EFFICIENT CADENCE
Cadence is how fast you turn the pedals. It is your pedal 'Revolutions Per Minute' (RPM) and can be likened to a car's tachometer. Most cycle computers measure cadence and this can be very useful or you can simply count the number of times your foot passes through a certain phase of the pedal stroke over 60 seconds (or over 15sec and then times that by 4).
Newcomers to cycling usually ride at a cadence that is below their optimum, mostly because they feel that in a bigger, harder gear they are getting a better workout if every pedal stoke is a strain and the quads are burning. However, easier gears with higher cadences is much more efficient, easier on the knees and allows your body to work aerobically with less force required per muscle contraction for the same power output.
Although there's a place for low-cadence workouts, it is important to remember to keep your legs spinning at all other times to better help you develop. This is because as your fitness increases, the easier gears and higher cadence will allow you to ride faster for less perceived effort and you will be able to back up and ride the next day with little or no residual fatigue.
It will most probably feel uncomfortable to keep a higher cadence to begin with, but stick with it and very soon it will become natural for you and you will reap the benefits. However, you will know that you are spinning too much if you start to bounce on the saddle so click into one harder gear to smooth out your riding style.
The thing with cadence, is that there is both a motor-learning and a physiological component to it, and in practice these sometimes work against each other. However, the issue of cadence is not specific to cycling. Runners sometimes refer to it as 'tempo' and sometimes as 'turnover'. Riding in a slightly easier gear with a faster cadence on the bike can be, as I have mentioned, more efficient than riding a harder gear with a slower cadence. The difference in efficiency is due to the unique physiological demands of each style.
It is not enough to just click into your easiest gear and attempt to spin up the next climb you encounter. Your body needs time to adapt.
So is it better when riding hills to maintain a higher cadence?
1. Yes as it is more efficient and will help you recover better and be more dynamic in your riding style, which will help you to break your competitors.
Or if strong enough push a heavier gear?
1. Yes if you are able to keep an efficient cadence because this will help you climb faster & recover better
2. Yes if you are engaging in a specific strength drill purposefully keeping a low cadence but do this under guidance from your coach.
Check out article here: www.multisportmagazine.com.au – Multisport Magazine is educational, inspiring and entertaining. It connects with the local athlete – whether a professional or purely for social enjoyment, they are committed to improving their lives through healthier living and taking advantage of great opportunities. Their Facebook is: www.facebook.com/coastmultisport