new to cycling
?  Do you want to
get back to the basics
? Do you want to
prepare for an event
you have committed to? Do you want to
meet a great bunch of people
, have
lots of fun
& enjoy the real
social cycling experience
?
Feel more confident & safe on your pushie with Sara Carrigan's Cycling Skills Courses divided into 4 different levels.
Each Skills Course starts on a traffic-free circuit at the Nerang Cycling Centre and has a specific focus covering the vital skills and techniques such as bike handling, cornering, braking, gear selection, cadence, bike posture, bunch riding, hill climbing and road safety etc.
To ensure each person can learn as much as they can, each course is capped at minimum numbers.
Register Here: saracarrigan.com/register Skills Course details: saracarrigan.com/details
Next Course Dates for Level 1, 2 & 3: 
(Click on date for more detail)
Structures & Levels:
(Click on table below to enlarge)

Cost, When & Where:
(Click on table below to enlarge)

For all Skills Course details:
saracarrigan.com/Details
Register Here

:
saracarrigan.com/register
Buy as a gift for someone else!  saracarrigan.com/shop/gift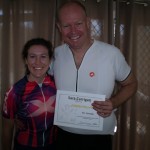 Venues:
1. Gold Coast Cycling Centre

View Gold Coast Cycling Centre in a larger map

2. Coffee Sisters

View Coffee Sisters in a larger map