Wheeling out Future Plan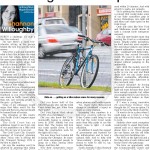 HERE'S a challenge. Go ride a bike this weekend.
Shannon Willoughby, Gold Coast Bulletin  chief reporter   |  01:07pm March 14, 2013
I'm sure there's a dusty two-wheeler sitting in the garage behind the tool box and the lawn mower.
Take it for a spin and remember what it feels like to have the wind in your hair (ahem, helmet hair), the open space either side of you, pushing those pedals along. Just don't do it along Garfield Tce.
And no, you don't have to wear lycra. Just thongs, shorts and a T-shirt will do.
European and US cities have a better relationship with their bikes than Australians.
Their progressive societies know the value of bike riding.
It's good for you, it beats paying for fuel and parking and you get to experience more of your neighbourhood as you weave between cars stuck in traffic (more often than not, cars carrying people to the gym — go figure).
Some of my colleagues would argue that bikes aren't for the roads and the lycra-clad set should be banned from all society.
The attendees at this week's Asia Pacific Cycle Congress argue otherwise.
The Gold Coast has an ambitious target to see 8 per cent of our population on a bike each day. We are now at 2 per cent.
The Gold Coast City Council's manager of transport planning Alton Twine, who is driving the City Transport Strategy 2031, is the first to admit it.
He says the numbers won't be achieved by jamming bike riding down people's throats. The key is informing the public they have options and that the roads are for everyone.
Did you know half of the 540,000 people who call the Gold Coast home live just 10km from their work?
Did you know that about 150,000 of us own bikes?
Did you also know the Commonwealth Games is coming to town in 2018? Ahhhh, bet you knew that. The Games will turn our roads upside down. If you think the construction work for the light rail is bad …
We now know how London did it during the Olympics. Its transport team encouraged people to jump on a bike, among other things. And they did.
Now their conservative mayor Boris Johnson is singing the bike song, announcing a $1.3 billion bike program that has been lauded around the world by bike lovers, urban planners and health experts.
Yes, that's right. Behavioural change is considered a legacy as much as a new stadium.
Increasing bike numbers is a low-cost, positive leftover the 11-day Games could bring to our city but the Gold Coast needs more than bike paths to see this legacy come to light — it needs education.
In addition it needs the support of government and business for the infrastructure and to lead a cultural shift. And to help with "place-making", giving people a reason to want to ride to, say, Surfers Paradise.
South Australia Urban Renewal Authority CEO Fred Hansen says the 20-minute neighbourhood is the future — a place where everyone can access everything they need within 20 minutes. And with priority to parks, not carparks.
He is pushing the shared street, a concept that would make some of our older councillors gasp in horror. Pedestrians, cars, light rail and bikes can't share space on the Gold Coast.
Only silly cities like New York and Melbourne would dream of such a concept (note outrageous sarcasm).
City and state leaders must stop treating the Coast as a retirement home. Despite public perception, we don't need any more carparks. We need place-makers and urban renewal authorities — music to my ears — combined with better infrastructure (my second favourite word). We need to show people there are alternative ways to get around without jumping in the automobile.
Let's ditch the models used 20 years ago (cars, cars and carparks as far as you can see) and think about how we can create more efficient, sustainable, affordable, vibrant, green cities right here in our own back yard.
Council shouldn't be booing proposed developments on the light rail route because they don't have enough carparks, but rather encouraging them to put showers, bike racks and lockers in their commercial space.
If I were a young, innovative 20-something thinker who thought the GC was an option, I'd want to live in the thick of activity.
I'd want to be in a place where I could jump on a tram to a bar, ride my bike to the beach, or walk to work.
Statistics show most youngsters would prefer to spend their hard-earned cash on a state-of-the-art phone than a car. These people are our future, not the old folks who were born breathing cars.
Put WiFi on the light rail and a few bike racks at each station and boom! There's the patronage.
We have an opportunity with the Commonwealth Games and the arrival of the light rail to make our city an Australian leader in changing the way people move.
Let's ride that concept home.