Tour De Tamborine – Ambassador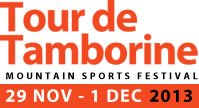 I feel honored to be one of the Event Ambassadors for the 2013 Tour de Tamborine!
I hope that through my involvement and experience, I can help educate and encourage more people to get involved in sport from within the community. This sports festival is different because it focuses on community and participation and gives back to the Mt Tamborine locals where the event takes place!
Events are dime a dozen these days but to be a part of one that truly values fun, enjoyment, engagement and education is a real  treat! Based in the picturesque surroundings of Tamborine Mountain and the Gold Coast Hinterland, there is something for everyone!!!
CYCLING
-5k, 10k, 25k, 50k, 100k
-All levels, all abilities, family & teams
RUNNING
-Hinterland Half Marathon
-10k, 5k, Walks, 1k Junior Bolt
TRAIL RUNNING
-Rain forest, Creeks, Mountain & Mud
-Beginner and advanced
TEAMS
-Enter with a friend, a club member or your work colleagues
CLINICS
-Education and assistance by some of the country's top sport's stars
FESTIVITIES
-Movies, Market, Restaurants & Attractions
-At taste of Mt Tamborine
CHARITY
-Helping to provide much needed funds & awareness for local charity & community groups
FAMILY
-Participants in 2012 were aged from 4weeks old to 89years old
DISCOUNTS & PRIZES
-For early entry, teams, students
-FREE entry for 12yr olds and under!
Enter and come join me for some fun 29Nov – 1Dec 2013! tourdetamborine.com.au