The Shuffle: ABC Radio with Sara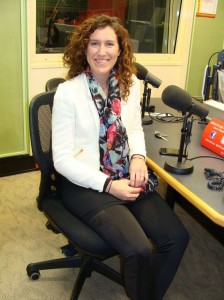 25 July 2013 , 6:52 PM by nicole gundi
Listen here to Sara's very entertaining and fun chat
Olympic Cycling Gold medalist and O.A.M Sara Carrigan remembers getting her first bike from Santa… It was a little red rocket with training wheels and she rode it around so much that she broke one of them off. Her dad decided that it was time for the other to go too.
"We had this slight downhill from where our farmhouse is and he was like, "righto Sara," he pushed me down the hill and I stayed upright all the way to the bottom of the hill and poop off I fell and it went from there".
Sara won gold at the Athens Olympics in 2004 competing in the 130km cycling road race.
"I didn't even know what a road bike was with the curly handle bars and the skinny tyres. I didn't even know the whole world of cycling and the Tour de France existed until I had my talent identification program at Somerset College. They tested all the students and I was one of the lucky 15 selected".
She's come a long way and Sara's just about to head overseas to be the Head Coach of the Australian women's cycling team.
Sara shared these songs with Scott Lamond for 'The Shuffle' and she got to sneak a naughty one in.
1 . November Rain – Guns N Roses.
This song always takes me back to Athens in 2004 after the Olympics. The Australian Olympic Commission put together the snippets of all the moments of the Olympic Games and it was to this song. I don't hear it often but when I do it reminds me of all these amazing moments and I just relish in it and I get goosebumps all over.
2. Jail Break – ACDC.
While training at the Bundaberg velodrome at around age 16 Sara heard an ACDC song and fell in love with the iconic rockers. "They are my absolute favourites." In her late teens her first ever concert was an ACDC gig at the Brisbane Entertainment. But she says the second ACDC concert she attended, quite a few years later, was an unusual experience. "I shouldn't say this but I was in full training at the time and I was so tired I fell asleep during the concert. See, it's just music to my ears," Sara laughs.
3. Even When I'm Sleeping – Leonard's Bride.
Sara sighs. When I was competing, I lived in Europe for 6 or 7 months each year and I was away from my family and partner. There are times when a long distance relationship was quite tough and I would just sit there and think about how much I loved him from afar! .
4. Stay – Rihanna
This is my latest favourite. I'm getting married in September and we're going to include it as part of wedding and probably our first dance. Stevo loves it too!! I'm leaving next week to be the Head Coach for the women's cycling team and I'm coming back only a week before!
5 Hate Me – Dirty Laundry.
Sara retired in 2008 after the Beijing Olympic Games. I certainly enjoyed myself after I retired, I was 28 then. During my career I made the decision to go to bed early and get up early but I wouldn't have traded it for anything else in the world. So when I retired I could go out dancing at night and we played this song as we were getting ready and we felt so excited.