Qantas Celebrity Golf Classic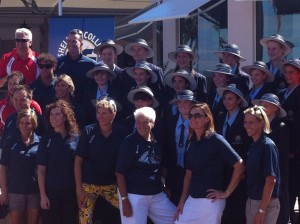 22nd April 2013 – We are on the Road to Rio!!!
What a day today! The Qantas Celebrity Gold Classic is the first event around Australia to begin the fundraising journey for our 2016 Australian Olympic Team bound for RIO!
For me, it feels great to give back and provide support to our new crop of athletes and Australian Olympians! Thank you to all the sporting legends who took part in the day today and to the sponsors who provide such valuable support.
It was a glorious day with many Olympians and sporting legends taking part in 18 Holes of Texas Stableford Golf on the superb Links course at Hope Island, one of Australia's most prestigious courses.
Each Corporate Team of Three Players were joined by one of the 2013 Qantas Celebrities for a unique golfing experience with:
– Motorised Buggy with GPS on board
– Gift Packs including Shirt, Cap, Golf Balls and Bag Tag
– Morning Tea
– Post Game Drinks and Light Meal served on the Terrace with the Qantas Celebrities
– Entertainment and Presentation of the David Fordham Cup and Event Prizes
– Automatic Entry into the Team Draw for the $4000 Qantas Airways Travel Voucher
This year the QLD Olympic Council (QOC) in association with Red and White Events will also be holding another significant event in Longreach (taking the Olympians and Olympic Spirit back to the regional areas) in August.