Golden Training Wheels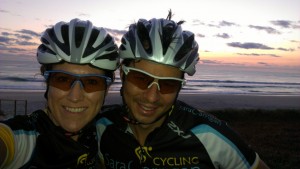 Tuesday, January 15, 2013 by Editor (ilivelocal.com.au)
Sara Carrigan is a champion within the professional cycling community. Based in Nerang, she has won Olympic Gold, has been named Australian Female Road Cyclist of the Year in 2002, 2003, 2004, was awarded the Order of Australia Medal in 2005 for her contributions to her sport and has won multiple medals in Australian and international championships.
Sara is now running her own business called the Sara Carrigan Cycling School, taking the opportunity to share her knowledge, skills and passion for the sport with the community.
Having begun cycling at the age of 15, Sara was instantly hooked when she was one of a handful of students chosen to trial a new road bike. With its skinny tires and curly handlebars it was certainly a novelty, but one that Sara quickly became addicted to. "The simple joy that comes with flying along on two wheels is what I'm teaching people."
Sara's motivation when starting her school was the number of negative experiences people were reporting after their first cycle. "It's a beautiful sport, but people lack respect for the road." Teaching people how to ensure their own safety through attention to the proper road rules is key to building better relationships between riders and drivers. There is no denying the tension involving cyclists and motorists, but with a little more knowledge and a little more respect between the two, the roads can easily cater to both.
The Gold Coast is a sporting mecca, with beautiful places to train and compete on offer according to Sara. She loves living in Nerang because of the proximity to an array of cycling routes, close enough to the beach and the hinterland to enjoy the best of both worlds.
Sara's school aims to provide students with a friendly, fun and safe environment to deliver fundamental cycling training, skills and development for all levels. It doesn't matter if you're a novice or if you're simply a little rusty, she's happy to ride with anyone who shares her passion and love for the sport.