Cycle Congress Calls on Carrigan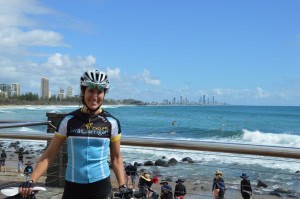 Saturday, March 02, 2013 by Editor
Cycle Congress calls on Carrigan The second Asia-Pacific Cycle Congress will be held on the picturesque Gold Coast from 10 March to 13 March at the Gold Coast Convention and Exhibition Centre, and Nerang's very own Sara Carrigan is going to be a panelist at the event.
The congress will bring together some of the leading cycling minds to work towards the common goal of getting more people involved in cycling, and event organisers promise that it will be a dynamic and inspiring event.
The program features a line-up of respected international keynote and guest speakers, presentations, showcases, think tanks, poster sessions, panel debates, exhibitions and displays, and Queensland's expanding cycling infrastructure will be showcased with cycling tours and social events.
Over the course of the three-day program delegates will explore key themes such as cycle planning, safety and innovation, education, health and behaviour change, community, industry and tourism.
Cycle experts from academic, private and public sectors, community cycling groups, cycling suppliers, manufacturers and retailers, and cycling advocates and enthusiasts should register their interest in attending, sponsoring or exhibiting at this prestigious event.
Sara has been an Australian professional cyclist ever since she was 15 and has won Gold at the Athens Olympics, is a Commonwealth Games medalist, a two-time National champion, World Cup winner, 12-time Australian Championship medalist, Australian representative at eight World Championships and has been named Australian Female Road Cyclist of the Year in 2002, 2003 and 2004, has received the Order of Australian Medal in 2005 and in 2012 was inducted into the Queensland Sporting Hall of Fame. Suffice to say she is definitely a knowledgeable asset in the world of cycling.
Sara is extremely excited to be involved in the event. "There are so many facets to cycling and bringing them all together in this congress I hope will provide an effective platform to explore, discuss and learn from past mistakes and past successes alike, to assist in decision-making to create more efficient communities and happier individuals in the future," she says.
Sara retired from the professional sport in 2008 and founded her cycle school, 'Sara Carrigan Cycling', which provides coaching clinics to recreational riders in a friendly, fun and safe environment to deliver basic cycling skills and teach safety on the roads to make cycling more enjoyable for all.
Original article found at: http://www.ilivelocal.com.au/_blog/iLiveLocal/post/Cycle_Congress_Calls_on_Carrigan/