2014 Cycling Australia Women's Endurance Cycling Program Scholarships Announced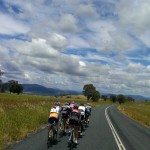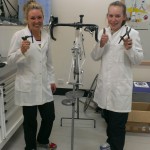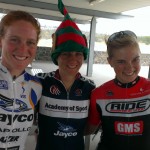 21 Nov 2013, by Cycling Australia  
Cycling Australia (CA) are pleased to announce the four riders who have been awarded 2014 CA Women's Endurance Cycling Program Scholarships.
Katrin Garfoot (Queensland), Chloe McConville (Victoria), Jessica Mundy (South Australia) and Emily Roper (Queensland) were selected after completing the gruelling nine-day selection camp held at the AIS in Canberra earlier this month.
Working with some of the nation's best sports science expertise at the Australian Institute of Sport, the selection camp was designed and modelled on Australian Military Special Forces selection methodologies. The camp was separated into three phases featuring a range of technical, mechanical and physiological skills assessments. 20 selected riders from across Australia took part with just four riders making it through to the final phase.
2013 scholarship holders McConville, 26, Roper, 19, and Mundy, 19, all return to the program in 2014 following a successful completion of demanding camp experience. Joining them is 32-year-old German native Katrin Garfoot, who recently acquired her Australian citizenship. Garfoot has delivered a standout domestic season, claiming the individual honours in the 2013 Subaru National Road Series.
"The finishing group of the 2014 camp is the best finishing group we have ever taken," remarked Cycling Australia Senior Women's Road Coach Martin Barras.
"Throughout the final phase, which was heavily based around team formation, this group was the most successful in the phase that we have seen.
"For Chloe, Emily, Jess, they had participated in our program before, so we knew their quantities and values.  It was a matter for them to confirm their abilities. And they did.
"For Garfoot, she was for all intents and purposes unknown a year ago, and the bar had to be set very high due to this and her age, and she certainly met that during the camp and throughout the domestic season."
Barras and his staff were particularly impressed with 23-year-old Canberra native and former middle distance runner Louisa Lobigs who, despite her relative cycling inexperience, made it through to the final stage.
"For someone with no cycling background and next to no racing experience, Louisa performed really well in the camp," Barras explained.  "She has some gaps to fill in with regards to experience and skills and we are putting in place a program to allow her to correct this and possibly join us later this season."
The first 2014 racing opportunity will come at the Tour of Qatar in February, before the team heads to Europe for the first part of the international season from mid March until late May.  A domestic camp will be held in Australia in July, before returning to Europe in early August.
"2014 is looking very positive as we are seeing a change of attitude and a step forward in the quality of the preparation and the requirements domestically," Barras said. "We are looking forward to continuing that in Europe next year.
"In regards to the camp and the participants as a whole, we were extremely pleased with the level of readiness the riders showed up with. The general standard is improving. It is clear that what we are looking for, and what our expectations are, is getting into the women's racing community.
"For us that's very encouraging and we are very confident, that the remainder of the riders sent back into the racing community will represent us and the program well," Barras concluded.
AIS Director Matt Favier said he was very pleased that Cycling Australia and the AIS are working together to utilise the world-class expertise and facilities at the Institute to ensure our best women cyclists have every opportunity to shine.
"Australia's Winning Edge is about working with our partners to find and develop our best athletes by providing the right support at the right time.
"I am confident that the approach that has been undertaken by the staff from Cycling Australia and the AIS will identify athletes with the greatest potential to be successful on the world stage," Favier said.
http://www.cycling.org.au/News/All-News/Road/ArtMID/2913/ArticleID/3904/2014-Cycling-Australia-Women%E2%80%99s-Endurance-Cycling-Program-Scholarships-Announced